Sell My House Fast In
Dallas Fort Worth
To Learn More, Call Our Free Recorded Info-Line (817) 550-5069 Ext# 9000
...then we can give you a fast, fair, "ALL-CASH" offer, plus we'll give you our latest new FREE report.
We Are A Residential Real Estate Investment And Solutions Company
We are a Veteran owned and operated real estate investment company that buys, remodels, sells, and leases homes. We are excited to potentially work with you directly OR if you are represented by an agent or broker. We are focused on redeveloping areas, improving neighborhoods and increasing home values in neighborhoods we work in and Buy Houses Fast in Dallas, Fort Worth, Weatherford, and surrounding areas. You may also find our additional YouTube videos helpful HERE.
To learn more about TMC Property Solutions and what others say about our services, please view our BBB report HERE.
"Veteran Owned and Operated"
To learn more about "How To Sell Your House Fast in Dallas Fort Worth Tx" call our free recorded info-lin at (817) 550-5069 Ext# 9000.
Together, We Can Create Your Solution!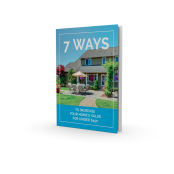 Enter your info below to get your Fast, Fair All-Cash offer and our latest free report NOW!